Goodr
Do you even pistol, Flamingo?
NO SLIP. NO BOUNCE. – ALL POLARIZED. ALL FUN
We designed these shades to look good(r) and stay comfortably on your face whether you're haulin' ass down a mountain trail or drinking beers in a Mexican cantina. Quite simply the best looking running sunglasses you can buy for less than $50.
Linsene har bla UV-400 beskyttelse, polariserende effekt og ripebeskyttelse.
Rammen er produsert i et gummiert og mykt polykarbonat som gjør at brillene sitter som støpt uansett aktivitet! De er veldig lette og veier bare 20 gram.
Brillene leveres i en flott og anvendelig eske med magnetlås + en beskyttelsespose som du kan pusse glassene med.
BFG:s (Big Fat Groin) = En litt større Wayfarer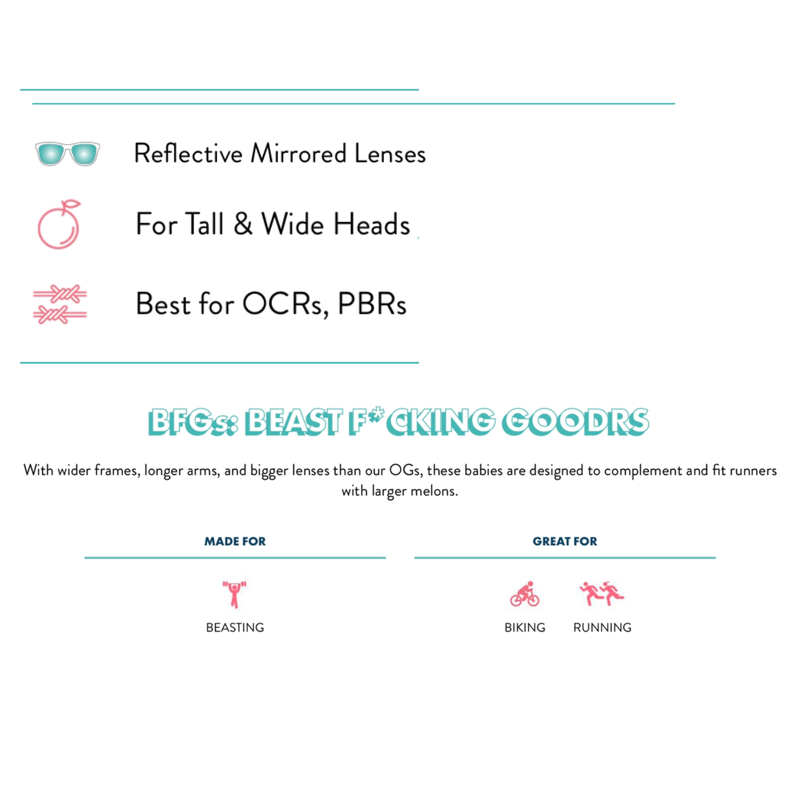 BIGGER FRAMES, BETTER COVERAGE.
1 NO SLIP
A larger frame size with more lens coverage for all you beasts with gargantuan craniums the size of sputnik.
2 NO BOUNCE
Lighter and more durable frame material that eliminates bouncing even with a bigger frame.
3 ALL POLARIZED
Glare-reducing, polarized lenses and UV400 protection that blocks 100% of those harmful UVA and UVB rays.
4 REFLECTIVE LENSES
Mirrored lenses to obscure the sinister look in your eyes without losing the ability to clearly see obstacles in bright light.
5 NO DEMOGORGANS
100% Guarantee against Demogorgon attacks. *Guarantee not applicable for any gainz taking place in the Upside Down.